It's your home and your elevator. If you have the ability to repair, replace or install your residential elevator, sub-systems or components and such activity has not been deemed illegal in your state, VCS has the support you need. If you are the do-it-yourself (DIY) homeowner and you need some support with an elevator, call us.
Looking for Home Elevator Plans?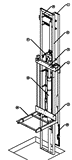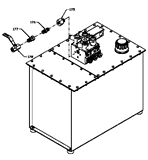 Does your residential elevator pump unit make noise, resonate and vibrate the house. The man behind VCS has experience with this. Some manufacturers in attempt to keep the floor space required for the pump unit to a minimum unwittingly created a unit that will make a resonance that can shake the house. This short fat version, pictured, is quiet. We have detail drawings for this pump unit.
VCS builds Custom Controllers using a combination of new and used components keeping the cost as low as possible while constructing a compliant, reliable and nonproprietary elevator control.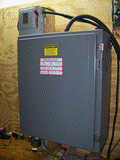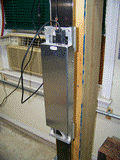 VCS produces field effect selector landing control systems. the selector sensor array and interface may be configured to meet most any application in the elevator industry.